EMERGING INDIA AS A TECH HUB IN MODERN TURBULENT TIMES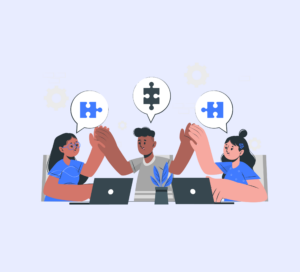 The post-Covid era has been full of ups and downs, and projections clouding us to see a clear future. Amid the difficult situation as offshoring increased in the IT sector, India has become a rising tech star. How?
---
The cadence of the Post-Covid era
We have all changed how we operate during the post-Covid-19 crisis. Some changes got forced on us; others represented the height of innovation in a difficult situation. There has been a reset of the workforce, employer/employee relationship, and the business ecosystem. For some companies, the impact of the pandemic has been positive; for some, apocalypse.
The phases of the Covid-19 pandemic are still in progress. In general, today's environment is economically ambiguous.
The record inflation in the United States (inflation rate of 7.1% in Dec 2022 from 2.5% in Jan 2020).
The government's fiscal responses contribute to recession concerns, but the credit and term spread signal lower risk.
Unemployment remains at the multidecade lows and is likely to rise.
And then, global geopolitical instability after Russia invades Ukraine.
---
Offshoring of IT and the rise of India
Accelerating the right digital initiatives lies at the core of must-take actions in today's economy. Lessons learned from prior downturns show that industry leaders accelerate in economic downturns by boldly investing in digital initiatives. According to the latest forecast by Gartner, Inc., worldwide IT spending is projected to total $4.6 trillion in 2023, an increase of 5.1% from 2022.
Companies are opting to augment their tech teams with offshore talent to tackle the squeeze of persistently high inflation and limit expensive talent. Successful offshoring requires a stable, low-risk environment that enables a business to operate seamlessly.
A key recipient of a large inflow of offshoring work has been India. Encouraged by attractive fiscal incentives, an investment-friendly environment, and lower living costs, overseas companies are embracing offshoring strategies and transferring activities of specific business processes to India, particularly IT.
As per the growth forecast by the IMF, India will remain one of the fastest growing economies globally for the financial year 2022-23, where GDP growth projections currently stand at 7.4% – being more than twice the rate forecast for China (3.3%) and three times higher than the United States (2.3%). India's exports of software services climbed 17.2% in the 2021-22 period, reaching an estimated total of US$156.7 billion.
---
India for the future of tech work
India has all the right ingredients for building a future-ready tech workforce.
STEM-driven education system: As per UNESCO data, nearly one-third of students in India pick STEM subjects, resulting in more STEM graduates than any other country bar China.
Highly skilled and qualified manpower: India generates 1 million graduates annually and the Indian infrastructure includes 3500 engineering colleges, 3400 polytechnics, and 200 schools of planning and architecture.
Changing tech landscape: India's Technology landscape is evolving rapidly from Tier-1 cities to Tier-2, Tier-3, and Tier-4 cities to target new opportunities.
Time zone variations: Companies in India provide the quickest time-to-market. For example- the 12-hour time difference between India and the USA leads to the faster completion of work, which further leads to increased productivity with greater efficiency.
Language barriers: India is the leading country of English speakers in Asia with 265 million who can speak the language.  Due to the skills, communication, technology, deliverables, and many more advantages, India has become a global destination for outsourcing IT services.
Capacitive corporate environment: Indian government's push towards digitalization and favorable policies and tax structures has helped overseas companies to take advantage of Indian talent and infrastructure.
HCode
 is one such company based in India that understands the flexibility to build a present and future-ready tech workforce. HCode has a team of talented and skilled developers to cater to your niche skill requirement. In 
several ways
, HCode helps companies with their tech team requirements, managing and retaining the matched talent to gain a competitive edge in this dynamic market.
---
If you want to know more about HCode and the services they offer,