REENGINEERING THE RECRUITING PROCESS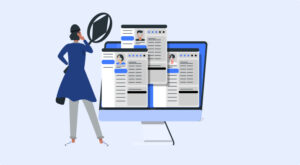 What are your greatest strengths and weaknesses?
Are you still asking outdated behavioral questions to your potential employees? If you are, more often than not, you are failing to reveal important information about a candidate's competencies. There is a massive push in the market to grab talent, and traditional recruiting practices will not cut in the new realities of finding, keeping, and developing talent.
Most conventional interview processes are flawed, at best. Several companies have adopted extensive hiring processes, described as a bureaucratic hiring method by Tyler Cowen and Daniel Gross in the book Talent. The treatment has become worse than a disease.
---
Metamorphosis in Recruitment
Regarding recruiting, the Covid-19 crisis has not led to so much disruption but accelerated shifts in the talent landscape that was already underway, leaving many companies ill-served by their current hiring practices. In a period of steep unemployment, it might seem that companies looking to add workers might be in the driver's seat. That is not the case. The number of job openings has also increased substantially.
Trends that are rendering traditional recruitment tactics obsolete: 
1. The Shorter shelf life of the skillset. ⏎
2. Highly gifted candidates are available outside the traditional talent pools. ⏎
3. Workers are calling the shots. ⏎
4. Location is no longer the deciding factor. ⏎
5. Mobilities between industries are high. ⏎
---
Mining the talent gold
Talent is ready to stream out the doors at a whisper of a better opportunity. Being able to work remotely has made it easy for people to leave. Geography is less of a barrier to poaching talent.
To adjust to the recruiting trends and build the workforce companies need, the companies will have to frame a new road map for success.
Modus Operandi: 
1. Hire more for skills and less for the experience. ⏎
2. Embrace mobility. ⏎
3. Reimagine the company's purpose for competitive advantage. ⏎
4. Move beyond Ping-Pong and free snacks. ⏎
---
HCode: A trusted partner
HCode's goal is to make it possible for companies to easily find and recruit the best tech talent to augment their engineering team. The team at HCode makes sure that businesses do not struggle with the cumbersome steps of the recruitment process- onboarding, off-loading, logistics, work culture maintenance, and others. The HCode team acts as an in-house talent team and takes care of the complexities on their behalf.
US-based companies like Maloka, Fable, and others trusted HCode's engagement models. Maybe you can try it too!
It has never been a more exciting time in the working world, but change has never come this fast. Let HCode be your chauffeur in tech talent recruitment.
---
Now, be brave, and don't look back. 
Always in motion is the future.
Don't look back.