REIMAGINING EMPLOYEE RETENTION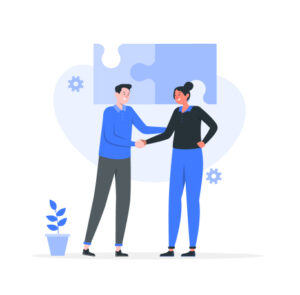 It's time to reimagine employee retention
No, you aren't making it up: employees are leaving your company faster than you can replace them. According to the US Bureau of Labor Statistics, more than 4.3 million people voluntarily quit their jobs in December 2021.
As per Gartner, the time to fill a role has increased by 18% since before the pandemic, and about half of the people who get a job offer are considering at least two other offers at the same time.
Money cannot fix all your talent problems. Leaders determined to stem the tide of talent defections could be surprised to learn they're barking up the wrong tree by simply throwing money or perks at the problem.
It's time to forget great resignation and think about great reflection. People have developed a new sense of awareness and worth for themselves and the world around them.
As an employer, you will have to help your employees find a purpose or you will have to watch them leave.
Progressive organizations are shifting from an employee-centered value proposition (EVP) to a human-centered value proposition for a post-pandemic workforce. Gartner's guide claims that progress in the human deal can provide benefits like a 28% increase in employees who are likely to recommend the org by delivering deeper connections.
---
'Great Attrition' or 'Great Attraction'?
The Great Attrition is happening- and will probably continue. Employees are willing to quit without a job lined up. Companies are struggling to address the problem because they don't really understand why their employees are leaving in the first place.
Employees want money, benefits, and perks- but more than that want to feel valued by their organizations and managers. They want meaningful—though not necessarily in-person—interactions, not just transactions.
If companies make a concerted effort to better understand why employees are leaving and take meaningful action to retain them, the Great Attrition could become the Great Attraction.
---
How to build strong retention at your startup?
Do you want your top talent to stick around? [Well, Who doesn't?]
The following solutions can enable you or your management team to do so:
1. Start retention in the recruiting phase
2. Focus career conversations on progression, not promotion
3. Open access to opportunities
4. Measure managers on people's potential, not team performance
As per Ned Feuer, Senior Principal at Gartner, managers can mitigate the risks with tailored retention strategies, provided they know whether the key people are priming to leave and what they expect to gain by moving.
It's time to keep your employees closer!
---
Building the "right" culture at HCode- a tech org
HCode aims to provide not only a job to its employees but also an experience of learning, growth, community, and emerging tech. HCode believes in respecting the employees and celebrating them. It believes in sharing wins and shouldering any misses.
The result: The retention at HCode exceeds the industry average by leaps and bounds
HCode marked its third year anniversary this month. And how did HCode celebrate it? By taking the team on an international trip to Thailand. Woohoo!
The result: Improved bond between peers and managers; Feeling of the one-big family; Increased positivity; Sense of reward for accomplishing goals
Now, this is what I call a culture of working hard and partying harder.
---
Go Forest Go! 
Catch your employees before they run away.
If you want to get the next issue in your inbox,
please subscribe to the newsletter.