THE CHANGING FACE OF FINTECH: A 2022 RETROSPECTIVE AND 2023 OUTLOOK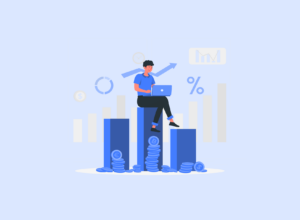 Introduction:
The world of finance and technology collided to give birth to the disruptive force known as Fintech. In the year 2022, this dynamic industry faced a tempestuous journey, grappling with challenges arising from the cryptocurrency market crash and economic uncertainties. Despite the hurdles, Fintech displayed its resilience, securing commendable funding and laying the groundwork for a promising future. As we step into 2023, the landscape of Fintech continues to evolve, with innovation taking center stage. In this article, we delve into the significant transformations witnessed in the Fintech realm and explore the opportunities and trends that define its path forward. From the rise of financial inclusion to the emergence of green solutions and the collaboration between established players and agile startups, the Fintech industry is poised for a revolutionary journey of growth and transformation.
2022 Fintech: A Year of Transformation
Fintechs, the fusion of finance and technology, saw their market value plummet by over half in 2022. The aftermath of the cryptocurrency market crash left blockchain initiatives gasping for breath, and inflation-hit currency exchange projects. Nevertheless, the spirit of innovation persevered, and fintech startups worldwide managed to secure a commendable $79 billion in funding during 2022, but the numbers were down by a disheartening 38% compared to the previous year.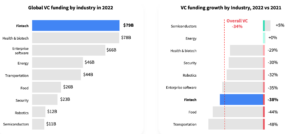 If we look closer, the latter half of 2022 witnessed a significant slowdown in funding, leaving us with a rather bleak picture of less than $5 billion per month.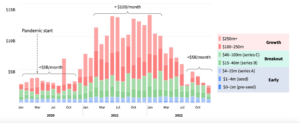 Even the tech giants, like Google and Meta, weren't spared from the tempest. Plex got canceled, and after three grueling years of struggle, the Diem crypto project was abandoned.  With giants reducing their fintech initiatives, the pace of unique fintech investments dropped to a crawl, with a mere ten unique fintech investments in 2022 Q1-3, the slowest pace in recent years. Megarounds dwindled to just 21 in Q4.

Fintech suffered the most in the downturn compared to other industries. Only semiconductors and energy remained strong and unaffected. 2022 was a challenging time for fintech, but it also brought changes, paving the way for the future.
Unveiling the 2023 Fintech Landscape
The financial services industry is profitable but lacks innovation, leaving over half the global population unbanked or underbanked. As per the report by Boston Consulting Group, Fintech, currently at 2% of global financial services revenue, is projected to hit $1.5 trillion by 2030 (25% of all banking valuations). Asia-Pacific leads this growth, driving financial inclusion, while North America remains an innovation hub. Europe, Latin America, and Africa also see promising growth opportunities, with Africa's potential to leapfrog legacy infrastructure.
Fintech around the globe:
China: Once a pioneer in the world's economy, now faces challenges due to its

banking

,

economic

,

trade

, and

governmental crises

, affecting its fintech industry.

Southeast Asia: Fintech boom empowering millions with digital banking, e-wallets, and lending platforms.

Africa: A hotbed of fintech innovation, and mobile money services have taken the continent by storm. Companies like

M-Pesa

in Kenya and

Paga

in Nigeria have provided millions of Africans with convenient and secure ways to send and receive money, pay bills, and access financial services.

Europe: Reshaping the financial landscape with open banking regulations, mandating the sharing of customer data with third-party providers. This fosters innovation and enables personalized financial services tailored to individual needs.
Fintech around the globe:
BNPL 2.0 evolves into

a merchant enablement platform

, disrupting banks and automating scheduled payments as part of their value proposition.

Rising interest rates impact industries, hitting online lending hard. Neobanks may struggle or consolidate due to economic conditions and loan delinquency growth.

Open banking advances, interconnecting traditional banks and fintech to enhance user experience and drive revenue streams.

Green Fintech solutions emerge to combat climate change, offering sustainable investing and eco-friendly banking services.

B2B and B2B2X fintech

solutions lead

, targeting SMEs and expanding financial inclusion. Developed markets challenge traditional spread businesses while emerging markets see disrupter models reign.
To seize the moment, regulators must lead with proactive policies for a collaborative, safe, and open financial ecosystem. Incumbents should partner with fintech to accelerate digital transformations, while fintech plays offense during the "fintech winter" while tightening belts to stay competitive. Some investors are choosing to build long-term positions within the sector, taking advantage of fintech valuations' correction.
As the fintech landscape continues to evolve, there's an exciting chance to be at the forefront of these changes and embrace the opportunities they bring.
HCode in Finance Technology
Collaborating with various partners, Hcode has played a crucial role in driving innovation and technological advancements within the fintech landscape. One such significant project was in collaboration with Paracap, a company specializing in consumer loan servicing and financial solutions for career schools, technical institutions, and training providers.
Together, they developed the groundbreaking Paramount Project, which consisted of two essential components – the Connect Portal and the Services. The Connect Portal, built using Django, served as a centralized hub for processing financial needs, streamlining information and services. Meanwhile, the Services, powered by Python FastAPI, facilitated seamless interactions with NLS and DEFI, enabling access to educational opportunities for individuals with limited credit histories. This innovative approach has opened doors for those traditionally overlooked by traditional lenders, empowering them to access education financing.
Beyond the Paramount Project, HCode has been actively involved in various other fintech initiatives, each contributing to the advancement and evolution of the industry. With a proven track record of excellence, HCode continues to push the boundaries of what's possible in the fintech domain, driving real-world projects that shape the future of finance technology.
In Conclusion
As the fintech landscape continues to evolve, there are exciting opportunities to be at the forefront of these changes and embrace the transformative journey of fintech. Whether you're curious about technology, interested in innovative solutions, or simply eager to explore new horizons, the world of fintech welcomes you to be a part of this ever-changing and promising domain.
If you're seeking top-notch technical wizardry to bring your fintech visions to life, HCode stands ready to provide the fintech nerd power you need. Let's join forces to shape the future of finance technology together.